It's December 23rd, the day before Christmas. I wake up around 7am in beautiful Vang Vieng, Laos, excited to go kayaking and cave exploring in about 90 minutes' time. I get out of bed and walk into the bathroom. I'm travelling alone, but I close the door behind me - I don't want any bathroom smells getting into the bedroom. My bathroom business done, I wash my hands and grab the door handle to go back to the room, get dressed, and get some breakfast.
Except the door won't open. What the heck? I hadn't even locked it! I try again and again, but it won't budge. I try locking and unlocking (which seems to work - the button moves in and pops out) - but it makes no difference; the door won't open.
My first reaction is amusement. OK, it would be kind of funny to get stuck in the bathroom. But surely there's a quick way to get out that I'm missing?
No, there isn't. My phone is in the bedroom, as is my Leatherman. Either of them would probably make for a quick solution to this problem, but neither is accessible.
Is there a window? Not really. Only some thick glass tiles and a small fan. Speaking of which… and does it feel like it's getting hot and stuffy in here? I'm trapped! I give the door a few hard shoves, and it changes absolutely nothing. It's a heavy, wooden door.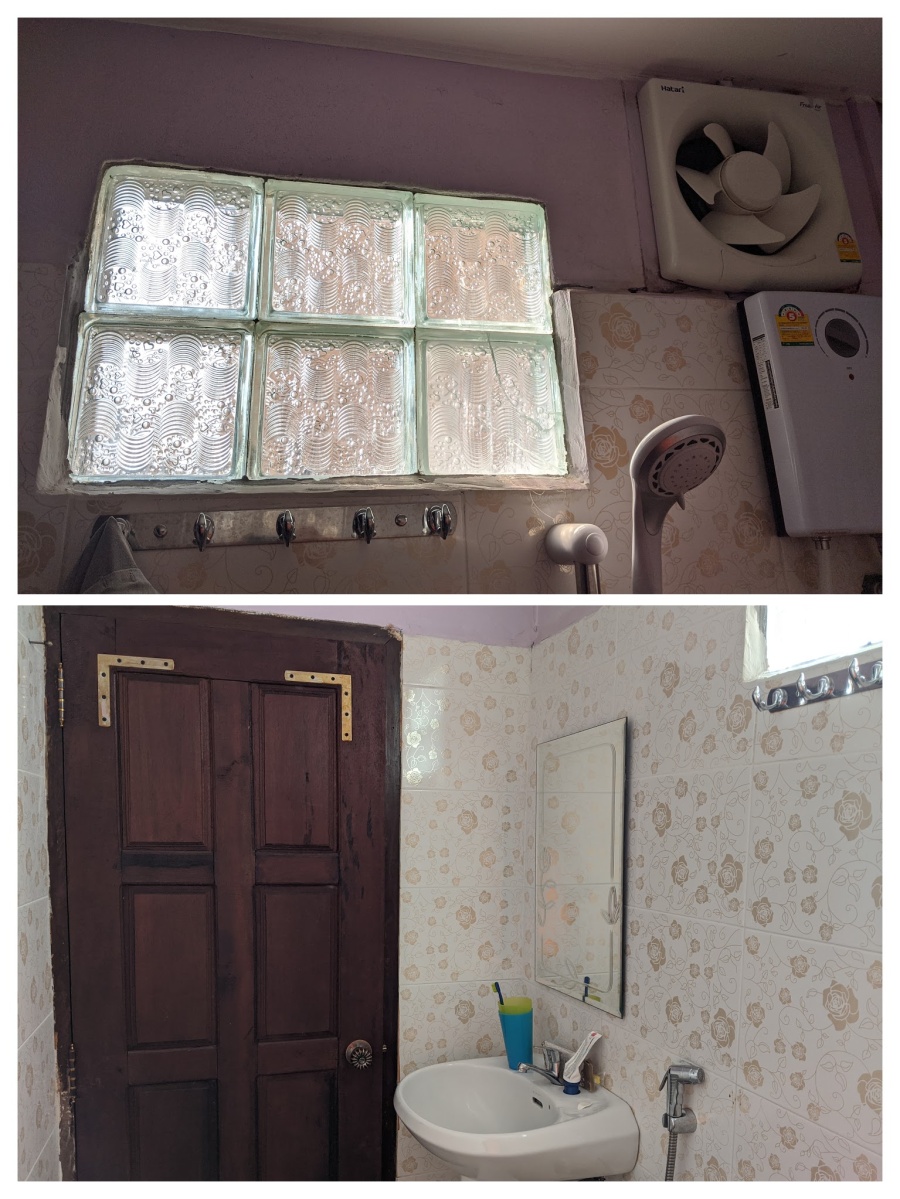 Panic tries to grip me, and I have just enough sense to notice it. OK, panic helps nothing. Let's calm down. I need to let go of my plans - I am not going kayaking and cave exploring today. Getting out of the bathroom is the big adventure of the day.
I name some things I'm grateful for: my girlfriend, my family, my dog and cats, the fact that I can travel like this, the nice dinner I had yesterday… you know, I have it pretty good. I can figure this out.
I take a couple of deep breaths, smile, and assess the situation.